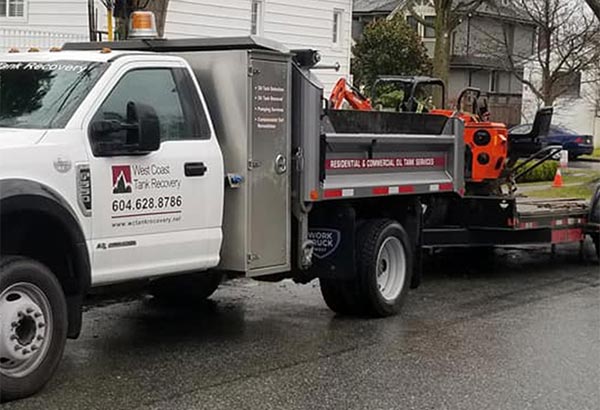 March 20, 2018
Why Should You Hire A Qualified Oil Tank Removal Company In Coquitlam?
Garbage products will always be the bane of any person's existence, whether they're a homeowner or a business owner. Whether it's disposing of electronics, light bulbs, oil tanks, or batteries, there's always some unique process that needs to happen in order to make sure the items are disposed of safely and correctly.
Why You Need The Right Company
If you live or work in Coquitlam and you need oil tank removal services, it is best to hire a licensed professional. In the last few decades, more and more people have switched switching away from oil heating, which means that when the new furnace or water heater was installed, they were left with the old tank just sitting on their property, often buried underground. This can be a problem for a number of reasons, including the fact that:
It is unsightly
Old tanks can leach harmful chemicals into the soil
Improperly removed tanks can risk groundwater contamination

Do I Require Oil Tank Removal Services In Coquitlam?
There are a number of different tanks that might be present on a commercial property and will require proper disposal. These include:
Above ground tanks
Diesel and fuel tanks
Gasoline fuel tanks
Fuel service station tanks
If you aren't sure you have an oil tank on your property, many companies are equipped with the gear to detect them. Finding the right company to help with oil tank removal in Coquitlam is imperative. Many companies will remove tanks from both above and below ground on residential properties.
Your Oil Tank Detection Options
There are two ways that oil tanks can be detected. The first option is M-Scope Oil Tank Scanning (tier 1). This is often the first step that will be taken. If no tank is detected, your company will issue a certified letter of compliance. The second is GPR Oil Tank Scanning (tier 2). This is a non-destructive method that is suited to detect tanks below stonework. It eliminates the need to destroy finishes.
Contact West Coast Tank Recovery
When you hire West Coast Tank Recovery for your oil tank removal services in Coquitlam, our team will help you with detection, removal, safe disposal, and backfill. We also offer land remediation services, so that you can be ensured that your property is not at risk for contaminated soil. Our team will remove contaminated soil from both commercial and residential properties and leave your land safe to be used by your family or customers.